UPDATE 14.5.: An added chapter on microphones, hearing aids, and room acoustics.
========================
I've been doing webinars for years.
I did four-hour webinars and very short ones that were over in 20 minutes.
I've done webinars where there were five of us, but I usually record them all by myself.
This manual is for everyone who wants to save time (money) and use the luxury platform WebinarJam.
WebinarJam is the best
I tried, left, tried, left… the WebinarJam, only to finally return to it for good in early 2019.
Yes, I'm not leaving it again.
It may seem expensive and paying a few hundred dollars a year for it is a lot, but I calculated that it is worth it.
Yes, I paid $479/year (about $40/month) for it, but your time is much more expensive!
Let's do the math.
I used to spend 1.5 hours more with other tools setting up each webinar.
What you need to do in any webinar:
emails notifying that the webinar is coming (24 hours before and 15 minutes before)
email with record
setting up lists and linking with Activecampaign
setting up a landing page (squeeze page) for registration
pop-up window settings
setting the appearance of the broadcast room
testing emails and everything else
communication about inviting guests (special link to the broadcast room)
Now, the simple math…
… why webinarjam pays off
you pay 800 CZK/hour
plus, I spent an average of 90 minutes preparing
you do webinars on average twice a month
approx. 20 webinars/year * 2 * 800 = 32 thousand!
WebinarJam has definitely saved my money…
…and most importantly: I'm not stressed because it's really challenging with other systems, and I have to focus on something else 🙂
WebinarJam can do it
Please read the terms and conditions of each system carefully. For example, I had a webinar in early 2020 with 4 speakers and over 1000 registered attendees (you can see the recording here: SEO: How I analyzed 1,000,000 search results).
Many webinar platforms won't allow you to have that many people together, or you'll have to pay a lot extra.
Webinarjam yes and much more.
Main advantages of WebinarJam
Here are the main advantages of Webinarjam for me:
up to 5.000 people online
up to 6 speakers
own broadcast room with online chat

sending a visible offer to everyone in the broadcast with a banner and a link
communication only with administrators, private (with one person) or all
playing pre-recorded video
pre-recorded slides with control and drawing into them
sending an online questionnaire within the broadcast (pleasant interaction)

online chat also runs within the recording
option to switch to everwebinar (please be careful with this, people are not stupid)
test rooms – a big plus!
duplication of webinars – a great time saver!
clear questions and answers
connection to Youtube
the webinar can be secured with a password
WebinarJam account settings
Before setting up a webinar, you need to set up your account.
Create an account HERE and get 14 days free.
First, of course, you set up the very basic information about yourself (first name, last name, etc.), and then we move on to GDPR:
Option to get a newsletter with everything (optional)
Consent to the processing of terms and conditions (mandatory)
Fill in the conditions you have worked out below
…then set up the connection to the email client.
In my case, it's Activecampaign and API key settings:
Step by step – webinar setup
Let's do it! Step by step, we will set up the most important parts together.
Inserting a new webinar into the system
Simply click on the "Add Webinar" button and proceed to "Full configuration," and select the correct "Schedule for later" type.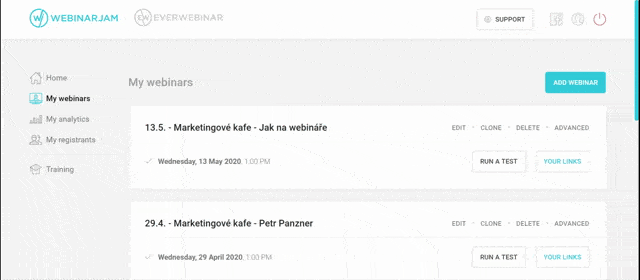 Basic settings
Here, we will set up what you want to broadcast, who will be the speaker, and connect WebinarJam with the YouTube channel.
Fill in the basic settings afterward:
Name of the webinar – for you
Webinar title
Image for webinar (for sharing on social networks)
Description of the webinar
Webinar language
If displayed on the portal for others
For example, something like this: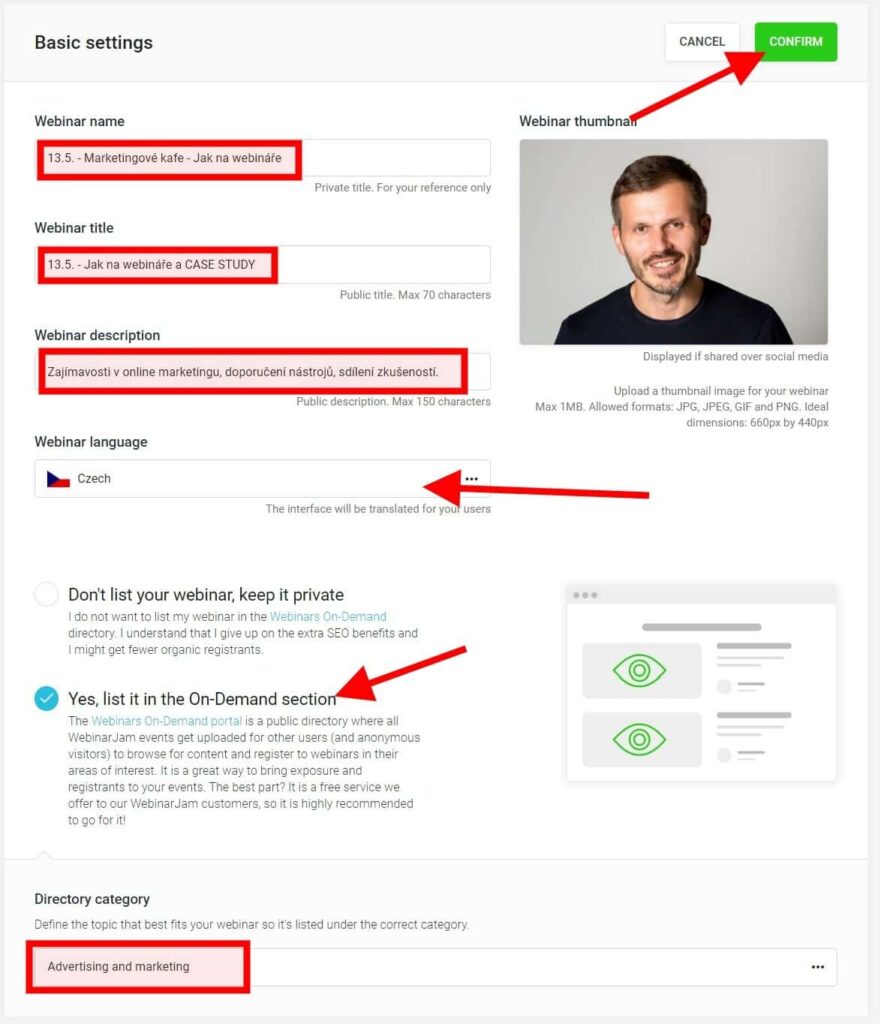 …then you set the speakers:
Name and surname
Email (this is important for sending access for other speakers to the test webinar and the link to the main webinar)
Photo – important! It will be shown to people in the broadcast room
If it's a speaker or a host

The speaker can be both visible in the online broadcast and has access to the control center
The host manages only the control center (questions, offers, questionnaires, etc.)
Fill in if you are somehow like this: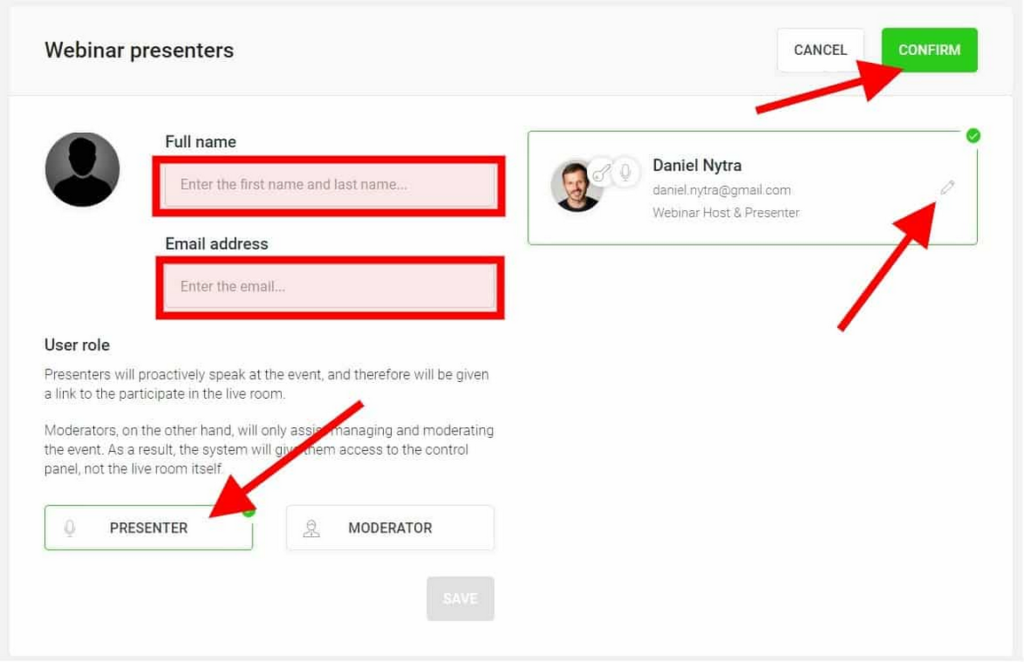 The last part is the possibility to connect to a Youtube channel. I have it, but you don't have to!
Webinarjam has its own broadcasting system.
If you want to set up YouTube and do it for the first time, here you find detailed instructions on what you need to set up in your YouTube channel.
Then, you can simply set it up as follows.
First, click on the connection in WebinarJam:
Then, by logging in with Google, you can access your YouTube channels and choose the right one: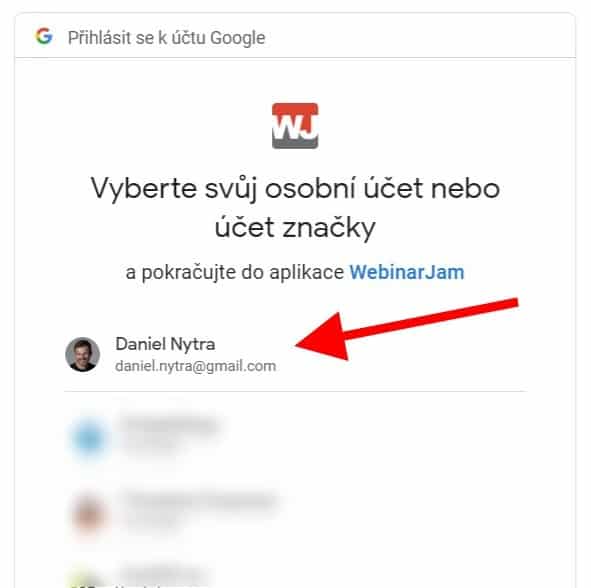 and confirm that you approve WebinarJam's access to your YouTube account and channel: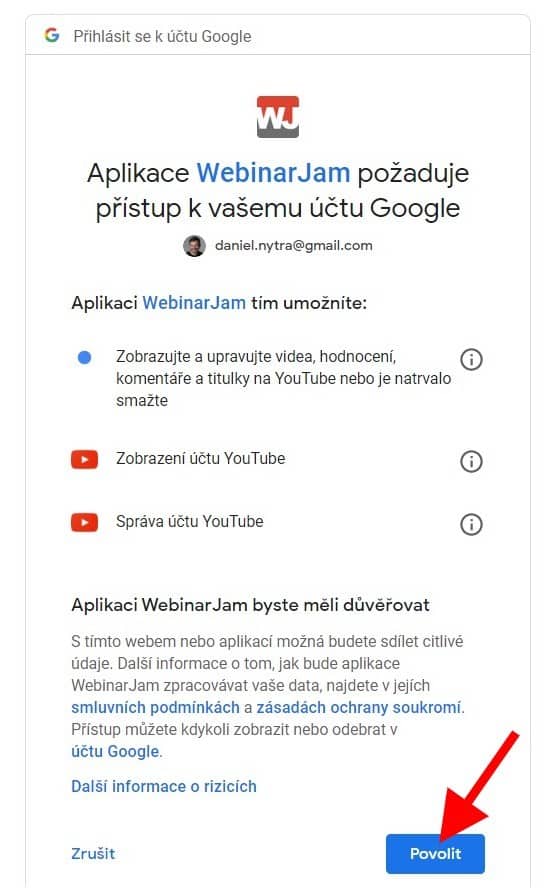 and you're done:
Setting the date
You have three options. It's all about what kind of webinar you are planning:
One webinar – e.g., 13 May from 1:00pm
More webinars on the same topic – e.g., 13 May at 1:00 pm, 16 May at 2:30 pm, and 1 June at 6:00 pm
More series – e.g., every Wednesday from 1:00 pm
Enter the relevant date below the option.
Preview of the first case setup for 5/13 at 1:00 pm:
Registration
In this third part, we will gradually set up:
Registration page graphic (you don't have to deal with it if you link WebinarJam with WordPress and thrive Leads plugin)
Form graphics (the same as the previous point – you can solve the graphics directly in WordPress)
Which fields to select
Option to view auto-registration for other webinars
Whether it's a free or paid webinar
If you want to secure the webinar with a password
Graphics first. I recommend it as simple as possible! I have very good results with the first pre-prepared.
In this graphic, you can change and set predefined fields.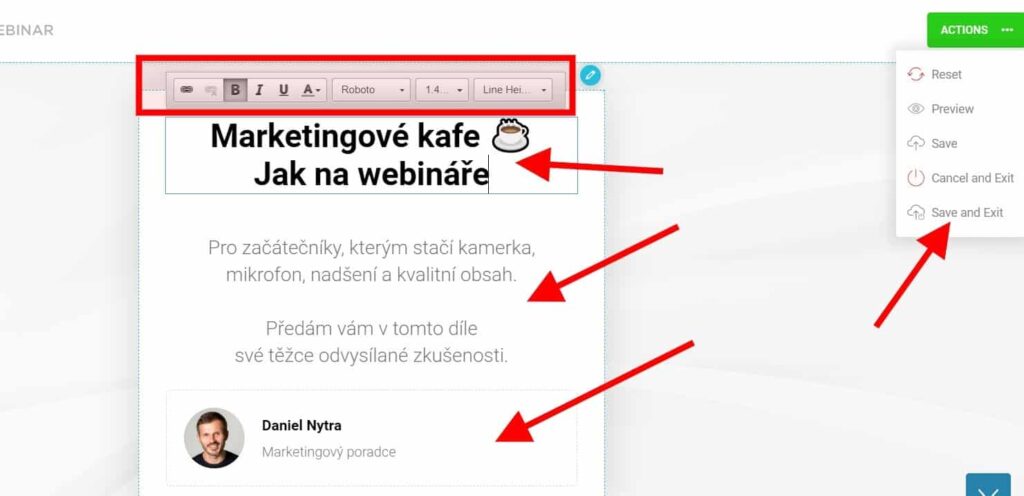 Note: Actually, I use my own graphics and a better editor in WordPress, and I send registered users through the connection directly to WebinarJam for the respective webinar date… see my registration page.
…then we set the form graphics – I personally use WordPress Forms in Thrive Leads plugin.
…then I leave only name and email (Attention! The name is mandatory and cannot be changed):
Note: I have also tried inserting a phone and connecting to the SMS gateway from Webinarjam, but I don't recommend it for Czech projects! It's not so much about the money for mailing (see Twilio for the Czech Republic) but the distrust of people.
Another thing is auto-registration.
Pretty nifty thing… if the registrant agrees and checks this option, you can then sign all these people up for the next webinar with just one click in the webinar settings.

in the form, it looks like this, and I personally have about 260 🙂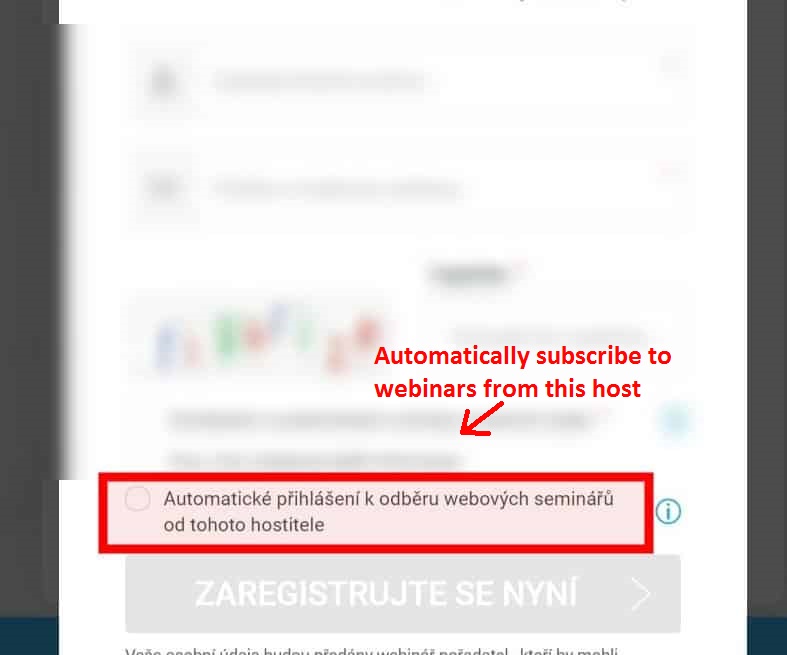 and then this is where you get people to the webinar:
and we're on to the last two parts:
Personally, I don't set up anything other than a free webinar, but if you want to sell via PayPal, check out the settings here.
When I sold webinars last year (4 x 4 hours of online marketing), I first sold through a popular SimpleShop. I then sent them a link to a ready-made direct entry to the webinar because of the different payment types for the Czech Republic and Slovakia.
Regarding password entry, you can also use a password for each registrant separately: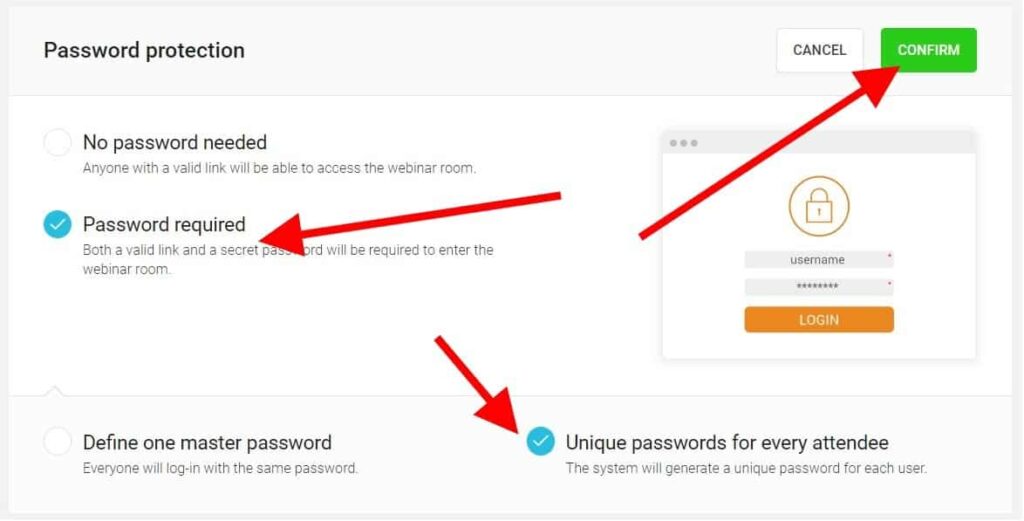 that's it for this part, and we're moving on to the next setup…
Messages to registrants
Both email and text notifications are set here.
If you are proficient in tools like Activecampaign and have a plan that allows it, you can alert website visitors through personalized messages. But this is more challenging and if you're interested, contact me.
As standard, you can choose from 3 options:
WebinarJam mail – custom email distribution, but it's a problem because it tries to send through unverified email (if you have Gmail, it's ok because it replaces it with its own)
Setting up your own SMTP server – unfortunately, a bit of a problem as you only have 4 choices

Insert custom fields into your email tool. The way it works is that each user is assigned a special field and Webinarjam inserts personalized content into it. But then you have to set up autoresponders for each webinar, which just defeats the purpose. Find here more about the connection.
Then just change the text of the emails that go to registrants.
Of course, you can count on additional texts that change according to the title of the webinar, etc.
I recommend making this as general as possible so that you don't have to do this for future webinars.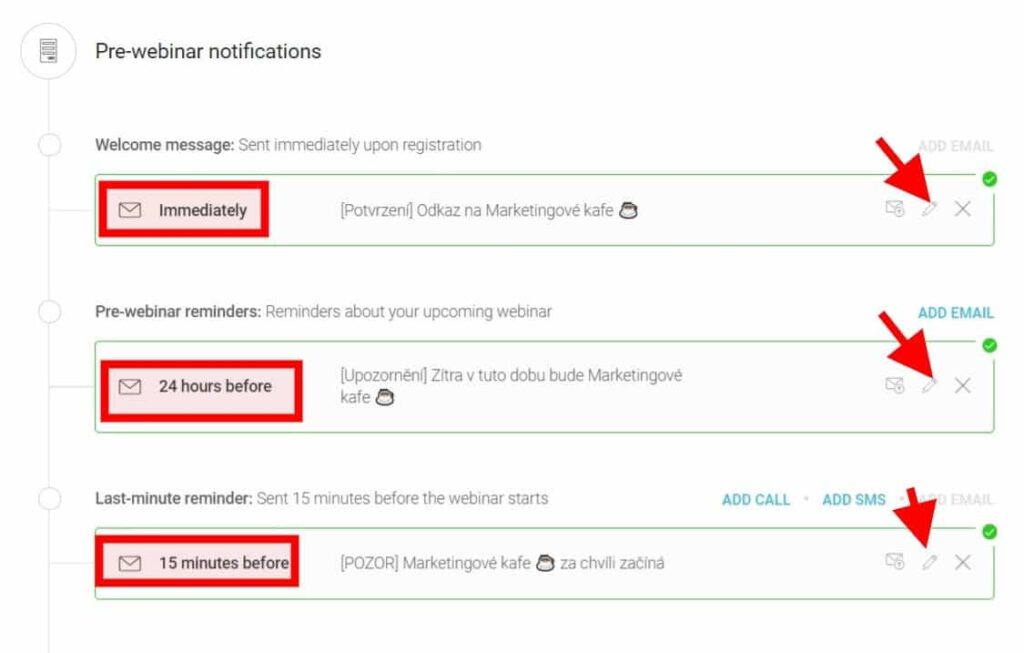 and one of the emails looks like this:
Note: If you want to set up SMS as well, you'll need to set up a connection to Twilio first: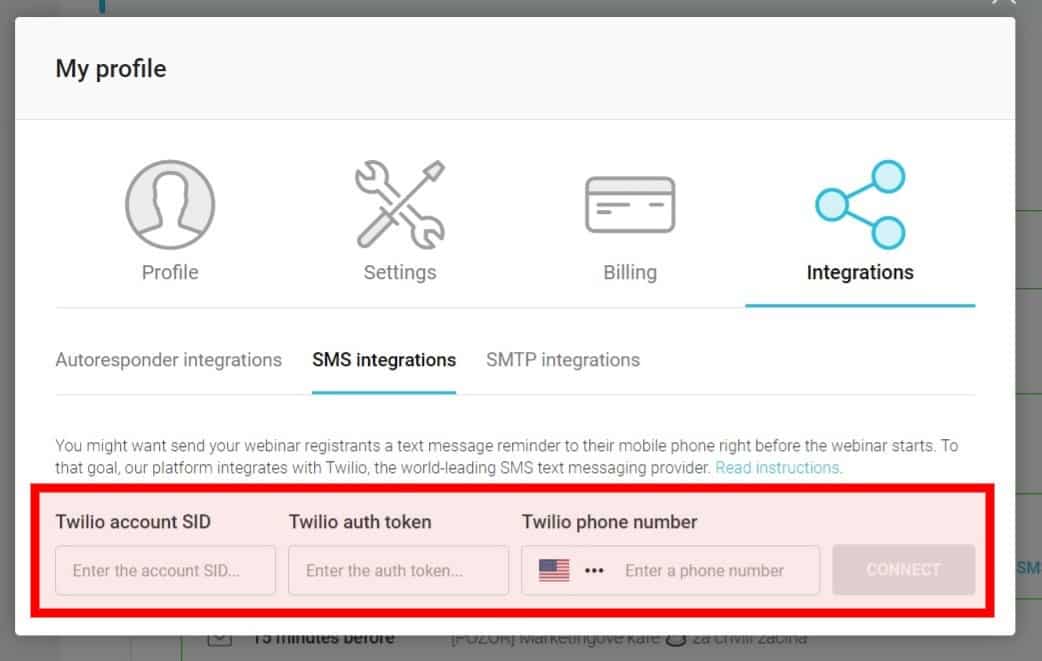 Note: If you want to do it cheaper, use Integromat and connection to NeoGate or other services…and if you need, contact me.
Connection with other systems
In this part, we will connect email tools and various marketing systems (pixels).
First, my favorite Activecampaign with a choice of which list registered users will "fall into":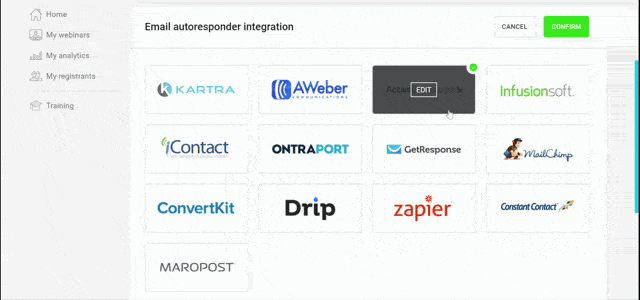 and this means that if someone new registers, they will get into the "TEMP: Webinar on Webinar" list.
We just set up pixels for all systems like Facebook, Google Ads, Sklik, etc., for example, for remarketing.
You set it up in a total of 4 different windows:
Registration page
Registration form (after clicking on the button on the registration page, it will be loaded into the iframe)
Thank you page
The broadcast itself
Webinar recording
I personally use Google Tag Manager so that I don't have to copy individual pixels again.
For example, it looks like this for me: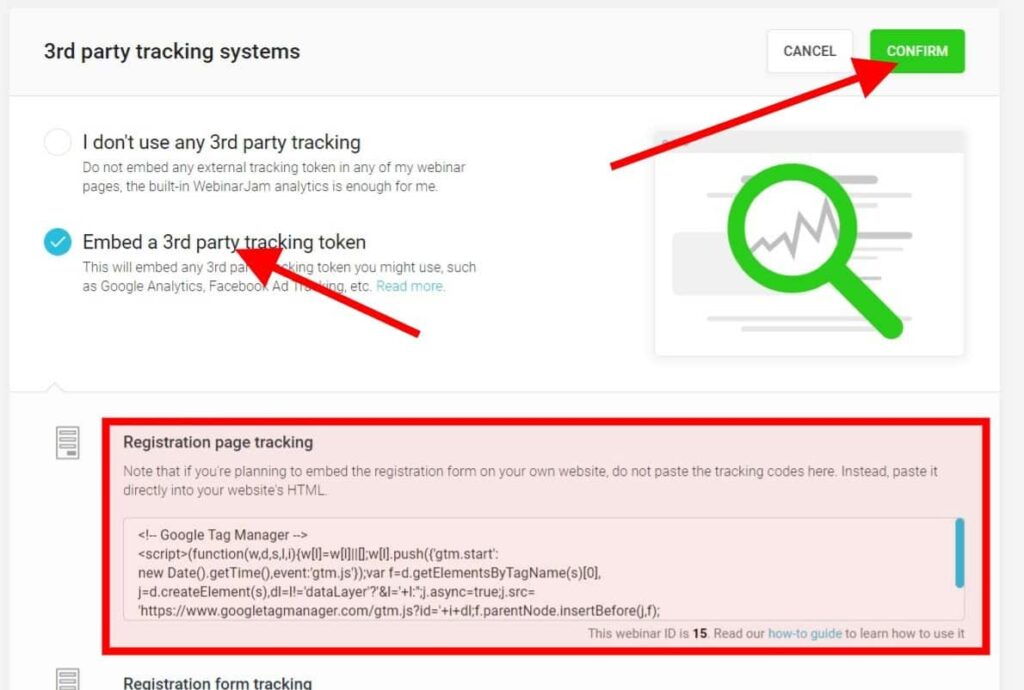 Setting up a thank you page
First, we set the poll display option and then the page graphics.
You can set up questions and ask registered users directly about interesting things on the thank you page.
I personally don't set this, but I ask directly LIVE when broadcasting (see below).
So, I'll move on to setting up the thank you page graphics.
It is the same as in the registration page editor: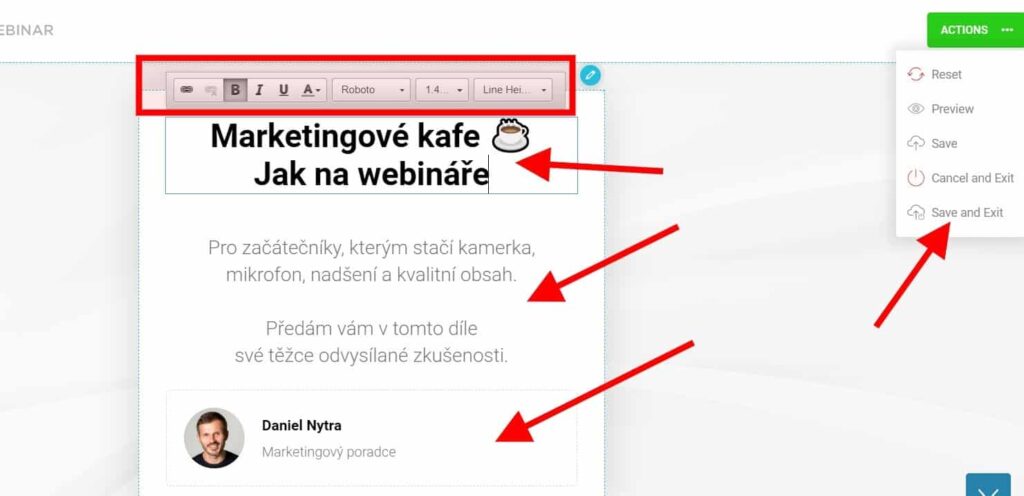 Broadcast room setup (LIVE)
Here, you can set:
Page graphics for people while waiting for the broadcast
Broadcast room graphics
Polls and quizzes
Product offers
Videos you can stream online
Files
Presentation
The first-page setup is the same as the thank you page or registration page. I don't think I need to explain that here.
I always have the default broadcast room settings.
I'm definitely setting the polls. It helps my guests or me:
Better adapt my presentation (e.g., "Are you familiar with Notifikuj.cz?" at the beginning of the webinar)
Ask how they liked it (e.g., "Did you learn anything useful?" at the end of the webinar)
Here you can see both questions in the webinar about Notifikuj.cz (here, by the way, you will find the record).
and here are the questions I ask in my webinars:
Note: I don't really like the fact that this data is not stored anywhere in Webinarjam 🙁
…now, we're going to set up an important thing: A product offer.
Here you set:
Offer name (for you only)
Title of the offer
Image (banner)
Text above the button
Text in the button
Button link (don't forget the UTM parameters!)
Special tweaks with pressure to buy:
"Broadcast sales in real-time" – thanks to the conversion code you set, the webinarjam system knows who has just bought and displays the information to others to encourage them to buy
"Apply scarcity in your offer" – the maximum number of sales that will decrease with each purchase
"Apply urgency in your offer" – pressure on the time by which the offer is available
Actually, the pressure seems too much for me… perhaps for the reason that I'm not the only one thinking about it.
…but even without these tweaks, it sells well through webinarjam 🙂
Here is a sample of the notifikuj.cz registration setup that took place in April:
…you can also set:
Video – you can insert videos from Youtube, Vimeo, and your own MP4 – more here
File – I haven't used it yet
Presentation – I personally upload PowerPoint (PPT, PPTX), but you can also upload PDF and KeyNote. It is necessary to consider that the animations disappear, and that the PDF doesn't show the full-width presentation. Control is then simple straight from the broadcast room, and your camera minimizes to the bottom as follows: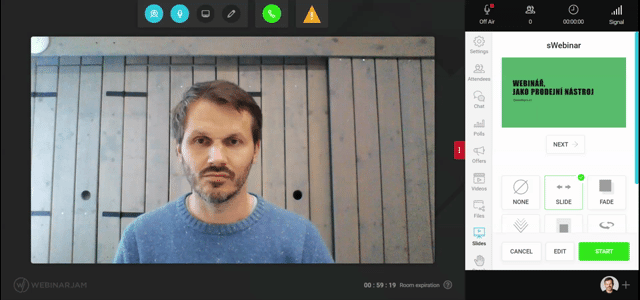 Webinar recording settings
I personally post the footage later manually as I add material we come across during the online broadcast.
You can set up the webinar recording page in a step-by-step manner:
Whether or not there will be a record at all

How the record will look like (can be changed later)

Link to the same broadcast room with the chat recording… the disadvantage is the inability to skip
Video only (MP4, Vimeo, Youtube) – e.g., if you want to edit the video and don't mind not seeing the online chat recording
Redirect to a completely different location

The record will be kept until a certain time or forever
Allow people who see the alert to ask questions (you'll get an automatic email)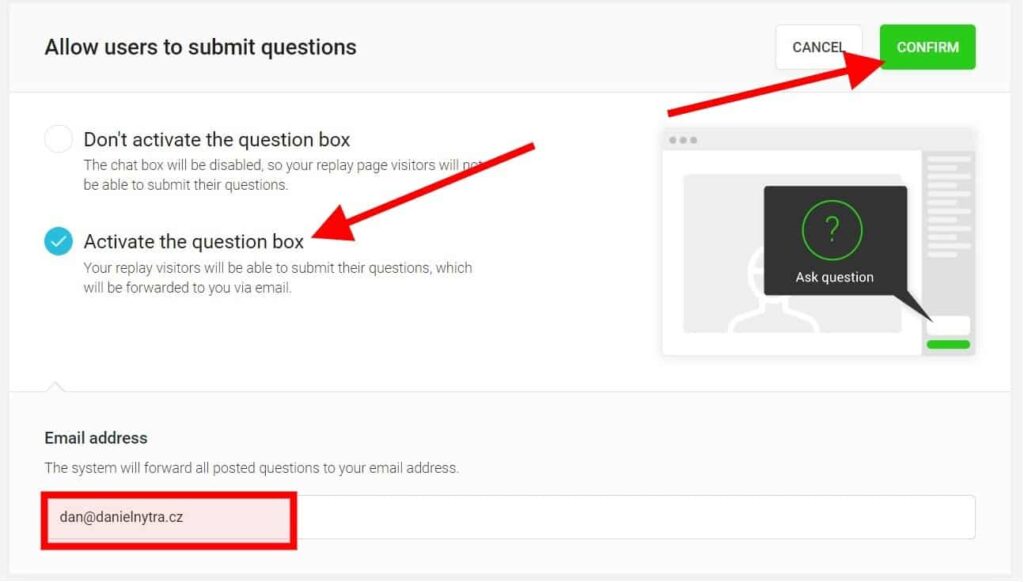 Note: The recording doesn't look like an online broadcast. It's marked everywhere.
What is available to you before the webinar
In this section, we'll describe what's available to you before the webinar begins:
You can automatically register people who have signed up for this in the future. You can find it under "Your Links":
OBRÁZEK
You have a link to the registration page, or you can embed the registration on your website (I recommend using other options for better graphics – e.g., the WordPress mentioned above and Thrive Leads + Thrive Architect plugins)
OBRÁZEK
You can access the test webinar via the "Run Test" button
You can test your way into a room that is for testing purposes only + a control center to navigate better the questions and answers (ideally, someone else will be in the background)
OBRÁZEK
You can send the link to the test webinar to other presenters
OBRÁZEK
You have a link directly to the live webinar
OBRÁZEK
For already registered users, you have the option to set up a one-click registration. Just fill in their name and email (Attention! The name is mandatory, and if your system doesn't add it, users will get an error message 🙁)
OBRÁZEK
What is available to you after the webinar
If the webinar has already taken place, that's not all… you need to take care of delivering the recording and possibly making it fit nicely into your marketing mix (aren't more people interested in the recording? Isn't this a good magnet for getting email into the database?)
You will find these things useful:
A working link to the recording (if you have it enabled in your settings), or you can download the video
OBRÁZEK
You can download the online chat log file in text form (when, who, and what was typed into the chat). It is a CSV file:
OBRÁZEK
If you have entered a poll on the thank you page, you will see the results
What's extra cool is the duplication of the webinars themselves.
If you do it smartly, you have minimal setup and a new webinar in basically no time.
Make the duplicate here:
OBRÁZEK
At the speed of sound
What microphone and headphones
Opinions vary widely.
I personally use a Yeti Blue microphone.
A few days ago, a friend had a similar question in a Facebook post about online training.
Of course, everyone has a different opinion about headphones and microphones.
You can see the individual comments here:
OBRÁZEK
Actually, it went like this:
Room acoustics
Martin sent me his experience based on a webinar I hosted:
When it comes to room acoustics, I need to decide what I want to solve.
a) soundproofing… i.e., I want to reduce the noise from outside or the noise that goes outside
b) improving room acoustics… reducing echo, reverberation, and standing waves
Heavy materials work for soundproofing, and it's generally very challenging. For example, in a flat in a block of flats, you probably can't do much.
I dealt with the acoustics of the room, especially the reduction of echo and reverberation. The echo spoils the sound the most, it's annoying, and there's no way to remove it from the sound.
How to improve acoustics
a) reduce echo and reverberation … acoustic panels work for this; here is a link to specific panels I have personally installed at home. I have 6 of them in my office, and it's totally awesome; the echo is gone https://www.techhouse.cz/Mega-Acoustic-FiberPRO120-Binary-Bean-d7835.htm 
b) avoid standing waves… that's what diffusers are for, they break up the sound, and it bounces in many directions, it's important for listening to music faithfully, and if you're only dealing with acoustics for online meetings, podcasts, and webinars, you don't need to deal with it at all
How to improve sound quality cheaply
Use a good-quality directional microphone and put it as close to your mouth as possible. Talk to it up close. That way, you won't have to amplify the sound as much, and the echo won't be nearly audible even if it's in the room. I use this microphone, and I'm thrilled. It's a similar type and quality of microphone that Daniel showed in the webinar https://www.muziker.cz/audio-technica-at2020usb
If you have space on the desk and want to improve the sound cheaply, avoid echo and catch reflections in the microphone, just put this acoustic wall/cover behind the microphone. It's much cheaper than dealing with the acoustics of the whole room https://www.muziker.cz/lewitz-vb-80
So, enjoy. I'd be happy to advise you in person. You can find me at www.lamael.cz 🙂
Martin
Conclusion
If you want to learn more about strategy, get data from one of my client's case studies, register for Marketing Coffee ☕ on how to do a simple webinar (13 May at 1:00 pm). The recording will, of course, be available.
Register WebinarJam for 14 days for FREE
…what about you? Do you do webinars? Write in the comments if you found this manual helpful!
Categories Insights Post navigation
How I bought a house thanks to online marketing (and I'm also doing renovation)
Online project checklist [289 points to check]
1 comment on "WebinarJam – A comprehensive guide to setting up a webinar"
Thanks for this article; it helped a lot.
Write a comment
Name
Email
Web
Save your name, email, and website in your browser for future comments.
Send a comment